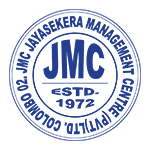 Jayasekera Management Centre

Pioneers in Professional Education
Welcome to Jayasekera Management Centre
JMC Jayasekera Management Centre was launched in 1972 with the sole and whole objective of reaching and maintaining the highest levels in the professional education sector. Since that point of time, during the past five decades we have made giant strides and reached milestones surpassing even our expectations so much so that we are now recognized as a most leading educational Institution producing towering performance results in Sri Lanka.
We are all about getting it right the first time. Become JMCian today an start getting results! Send in your application for your preferred course or contact us. We are always there to attend to your query.
widespread island-wide, facilitating quality learning at your convenience. View the branch directory
ranging from accountancy to computing and from management to vocational studies
is the best evidence for the quality of learning we deliver. Pioneers always set industry benchmarks.
trust us with their future. Join us today with the pioneer and shape up your future as well!
This is the information era. Having yourself equipped in the ever-changing world of ICT is a must to survive in today's business environment. Our ICT faculty is ready to make you thrive and win the world. Our courses range from basic certificates to advanced diplomas. Starting your ICT career has never been easier!!