Jayasekera Management Centre
welcome to
Pioneers in Professional Education
shape up your knowledge with the pioneer in professional education
Estd. 1972
Next Generation of Learning is here...
Welcome To
View Available Courses and Modules
Your effective professional study path starts here
Professional Studies
View All
Let your children have the international education they deserve
Learn More
We will guide them to identify, nurture and excel their true potential.
JMC College International
JMC School of Computing
A computer scientist is well-equipped with more that just coding knowledge.
We will help the computer scientist in you.
Learn More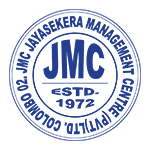 Jayasekera Management Centre

Pioneers in Professional Education
Welcome to Jayasekera Management Centre
JMC Jayasekera Management Centre was launched in 1972 with the sole and whole objective of reaching and maintaining the highest levels in the professional education sector. Since that point of time, during the past five decades we have made giant strides and reached milestones surpassing even our expectations so much so that we are now recognized as a most leading educational Institution producing towering performance results in Sri Lanka.
We are all about getting it right the first time. Become JMCian today an start getting results! Send in your application for your preferred course or contact us. We are always there to attend to your query.
widespread island-wide, facilitating quality learning at your convenience. View the branch directory
ranging from accountancy to computing and from management to vocational studies
is the best evidence for the quality of learning we deliver. Pioneers always set industry benchmarks.
trust us with their future. Join us today with the pioneer and shape up your future as well!
This is the information era. Having yourself equipped in the ever-changing world of ICT is a must to survive in today's business environment. Our ICT faculty is ready to make you thrive and win the world. Our courses range from basic certificates to advanced diplomas. Starting your ICT career has never been easier!!
As a parent I am proud to admit my child to JMC College International. I know my son's future is secured!
Pradeep Weeramanthri
Father of Kusal Weeramanthri
Best Child Actor, Rupavahini State Awards'16
With a friendly environment, disciplined approach guided by core values and principles, enlightened by vast experience, JMC stands tall among all.
Mr. Mohomed Jasmin (LLB)
Attorney-at-law
Lecturer, Corporate and Business Law
I am extremely grateful to JMC to all the ways they helped me in and I hope to continue classes with them on my way becoming a Chartered Accountant.
Mareena Perera
CASL Prize Winner
2nd in Order of Merit Prize - Executive Level 1, Mar'15
BMA Subject Prize - Business Level, Dec'16
JMC is the miraculous place which created a student like me, who is now a prize winner of a subject, something I never even knew when I joined
Kesara Hewage
CASL Prize Winner
Processes, Assurance & Ethics Subject Price - Mar'16